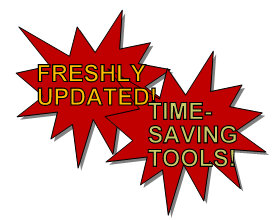 Introducing:
HR Specialist Premium Plus Online ...
HR Answers You Can Trust.
When you need fast, accurate answers to your questions, and don't want to have to slog through a time-wasting online search looking for the important stuff,
HR Specialist: Premium Plus Online
can help you meet any HR challenge – and seize every opportunity to protect your organization from lawsuits, support employees and advance your career.
Employers know they can count on
HR Specialist
'
s
compliance and training products to keep them out of legal trouble.
Your subscription includes:
Instant access to expert HR guidance. Need time- and money-saving advice on progressive discipline, a specific FMLA situation, or how to put together a high-value compensation and benefits package without breaking the budget? Premium Plus Online provides instant help in more than 10,000 articles written by top HR professionals, employment law attorneys, and compensation and benefits specialists. Search archives from years of HR Specialist newsletters.
Answers to YOUR employment-law questions. Our "Ask the Attorney" service features the counsel of noted employment lawyer Nancy Delogu, a Washington, D.C.-based attorney with Littler Mendelson, the nation's largest employment law firm.
Trouble-shooting tools from HR Law 101. In a single online source, HR Law 101 offers plain-English explanations of what all major federal employment laws mean … and how to translate those requirements into real-world HR policies and practices. With just a click, you can use more than 80 checklists and self-audits to identify any potential trouble areas.
Vastly expanded state law updates. Now you'll be able to access the latest legal changes at the state level – not just for your headquarters, but for any state where you do business.
Ready-to-use HR tools. Quickly access dozens of sample policies, white papers, and our HR 101 database. Plus print "Memos to Managers" – memos you can use to demonstrate a "good faith effort" in keeping managers up to speed on sensitive employment law issues.
Customized employee communications. More than 100 "Memos to Managers" help you keep supervisors in other departments up on HR law, regulations and best practices.
Self-Audit Your HR Practices. This quick, 30-question self-assessment helps identify your company's HR weaknesses (and potential legal liability), and offers model policies, sample forms and other helpful resources. You can also take one or more "mini-audits" on individual HR topics.
Podcasts of recent HR webinars. Every week, you'll be able to hear what top attorneys and HR experts have to say on the day's hottest topics – and hear your colleagues' questions, too.
One-stop access to ALL your HR resources. Read or download the articles from the current issue of the HR Specialist and Employment Law newsletters. Then click on related articles to find even more information on a topic.
Human Resources and Employment Law e-letters. Stay current on critical employment law issues affecting human resources professionals and employees.
Sign up for a risk-free 30-day trial today! You'll not only get access to all
Premium Plus
services, but just for trying
us out you'll receive an extra bonus report –
10 Employment Laws Every Manager Should Know
!
Chances are, some of your supervisors are exposing you to legal liability right now. 10 Employment Laws Every Manager Should Know helps ensure that your management team (at ALL levels) knows what to do – and what to avoid. This Special Report is priced at $30.00 … but its value is almost beyond calculation. And it's yours FREE when you sign up for your no-risk 30-day free trial!
100% Money-Back Guarantee.
Give us 30 days to prove our value to you. If
Premium Plus
ever fails to meet your needs – at any time, for ANY reason – contact us at (800) 543-2055 before your trial ends and your credit card will not be charged. Afterwards, if you cancel, you will receive a prorated refund. No questions asked.
Sincerely,
Phillip A. Ash, Publisher
P.S.
Zero risk – and zero cost.
Remember: you can try
HR Specialist: Premium Plus Online
for 30 days at no obligation whatsoever. If you don't like the service, just call and cancel. You owe nothing – but any documents you've downloaded, plus your FREE Special Report,
10 Employment Laws Every Manager Should Know
, are all
yours to keep. No hassles, no questions asked.